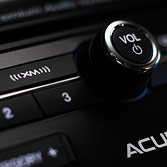 SiriusXM Satellite Radio
With the SiriusXM Radio Accessory, you`ll receive a vast amount of digital audio entertainment, at CD-quality, no matter where you are in North America. Over 140 digital channels of music, news, sport, traffic, weather and entertainment. The most commercial-free music in satellite radio. Live concerts plus exclusive original programming. Digital sound for the best tonal quality available.

Click here to view a PDF of the installation instructions.
Attachment Kit (Required) Part Number 08B15-TX6-200List Price: $77.00 | Your Price $57.75
Add To Cart
Satellite Radio Part Number 08A15-TR0-100List Price: $174.00 | Your Price $130.50
Add To Cart
Y Adapter Harness, 2 PORT BUS KIT (Required) Part Number 08A31-0F1-000List Price: $16.00 | Your Price $12.00
Add To Cart
Radio Antenna (Required) Part Number 08A15-0J1-100List Price: $45.00 | Your Price $33.75
Add To Cart