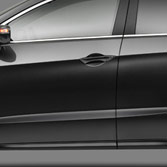 Body Side Molding Kit
Helps protect your RDX from nicks and dents caused by neighboring car doors. Color-matched for a factory appearance. Injection-molded parts for dimensional stability and improved appearance. Strong and durable thermo-plastic olefin material provides excellent resistance to scratches and dings.

Click here to view a PDF of the installation instructions.
Forged Silver Metallic Part Number 08P05-TX4-240List Price: $259.00 | Your Price $194.25
Add To Cart
Kona Coffee Metallic Part Number 08P05-TX4-2A0List Price: $259.00 | Your Price $194.25
Add To Cart
White Diamond Pearl Part Number 08P05-TX4-230List Price: $259.00 | Your Price $194.25
Add To Cart
Silver Moon Part Number 08P05-TX4-280List Price: $259.00 | Your Price $194.25
Add To Cart
Basque Red Pearl II Part Number 08P05-TX4-260List Price: $259.00 | Your Price $194.25
Add To Cart
Crystal Black Pearl Part Number 08P05-TX4-210List Price: $259.00 | Your Price $194.25
Add To Cart
Graphite Luster Metallic Part Number 08P05-TX4-220List Price: $259.00 | Your Price $194.25
Add To Cart