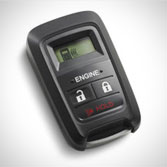 Remote Engine Start System II
Integrates with your vehicle`s security and immobilizer systems to ensure protection. The remote includes an LCD display that indicates vehicle and in-cabin temperature status. Run-time of 10 and 20 minutes. Caution: Never start your Acura in an enclosed area as this may cause carbon monoxide build-up. Not available for manual transmission vehicles.

Click here to view a PDF of the installation instructions.
Remote Engine Start Part Number 08E91-E54-200List Price: $244.00 | Your Price $158.60
Add To Cart
Attachment (Required) Part Number 08E92-TY2-200List Price: $155.00 | Your Price $116.25
Add To Cart